About us
The Association for Orphans and Destitute Children in Vietnam (ASSORV) is a non-profit organization under the French law of 1901, founded in 1992 in the Val de Marne department. The association is accredited by the Vietnamese government through PACCOM.
Our objectives are to support any effort to help orphans and children in need, and to work with other organizations toward the same goal.
Since 1992, we have built 3 orphanages Hoa Mai in Can Tho, Vi Thanh and Danang where we fulfill the essential needs of a child: accomodation, food, medical follow-up, emotional support. Each center hosts 50 children and all of them go to school. Then, they are helped in their professional training and integration.
We also intervene in emergencies by collaborating with partners in Vietnam by providing family assistance and health care. Besides, we organize humanitarian missions each year gathering medical consultations for villagers, visits of Hoa Mai orphanages and of other similar organizations. These trips can take place during winter or summer.
Our ethics
We help a Vietnamese child in his country, within a community composed of caring adults and other children. Hoa Mai orphanages are open places where a child is listened to and protected. We think that a child has to be educated in order to learn to be happy in his life.
We also think that we love a child when we know his country and his culture, that is why we present the Vietnamese culture during our yearly events through conferences, Asian markets, presentation of regional and ethnic outfits, music, painting, exhibitions, courses, etc.
Our team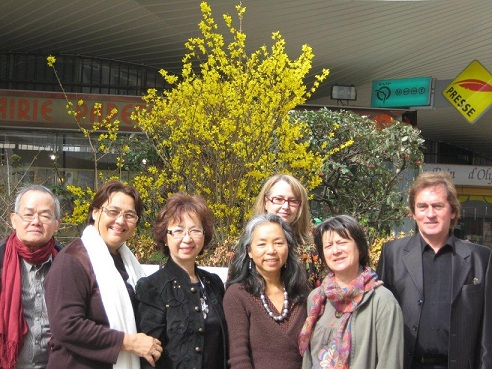 ASSORV is composed of volunteers and active members of all ages. We have several delegations in different regions of France. An annual general assembly elects a board of directors which appoints an executive committee.
We work with the IAICF (previously known as ASSORV California) in the USA.
Our staff in Hoa Mai orphanages in Vietnam are paid by us based on the salary set by the Vietnamese government.
ASSORV's board of directors: Rachel Beaujean Deschamps, Emmanuelle Catinois, Myriam Faurite, Françoise Gardien, Anne-Marie Gouiffès, Paule Laurent, Christian Leroux, Bich Hai Perrotin, Pham Cécile, Pham Trong Khoat, Pham Phi Long, Françoise Platel, Nicole Sorin, Eliane Théry, To Van Trung, Vu Thien Bich Dao.